Miniaturen Miniatures
David Sculpher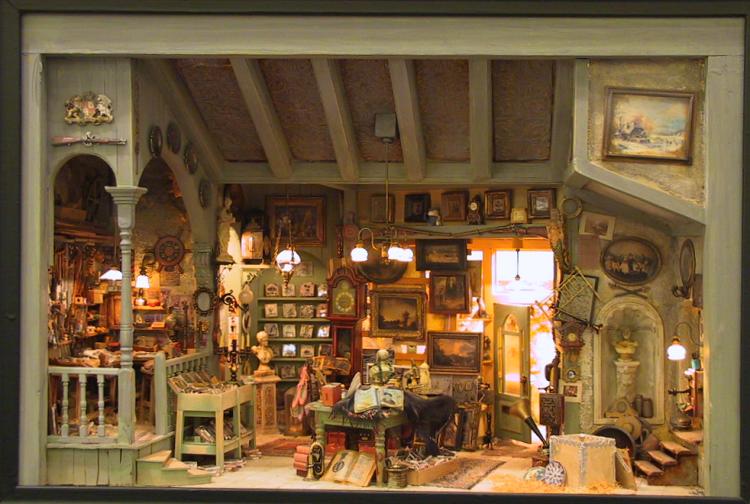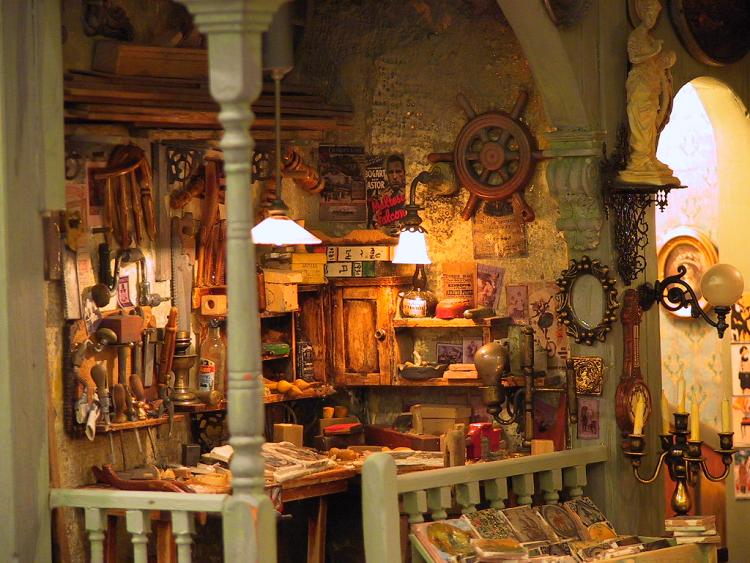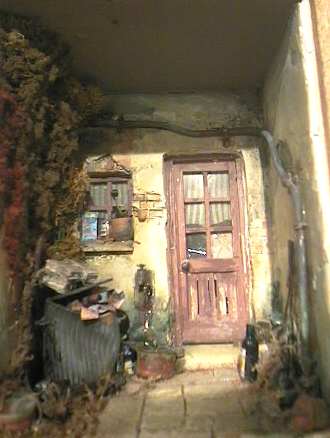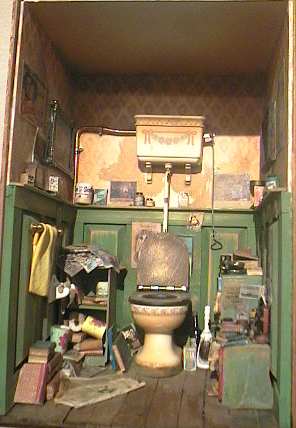 "David Sculpher World"
David Sculpher
9.18.1932
David Sculpher was born on September 18th 1932 in North London England. He grew up in a very theatrical family with a mother who supported his career choices from the very beginning. With his mother's blessing David decides to opt out of school at the early age of 13 to join the local theatre company as a stagehand apprentice. This everlasting love for the decor and set building in the theater will prove to be one of the major moments in his life and will form the basis of his experience and ability needed to create perfected realistic time pieces, both large and small, for over the next 60 year course of his professional life.
At the keen age of 18 David has become a stage and lighting manager at which moment the King of England requests his services. He will spend the next 4 years stationed in Honk Kong and Malaysia. Working as an air traffic controller David never loses sight of his dream to return to the theater when he returns to England and wishes to travel abroad with touring theater companies.
In 1953 he returns to London and straight away joins the Royal Opera House in the theatrical heart of London.
He tours the world several times with The Royal Opera House company, The Royal Ballet Company and The Royal Shakespeare Company. During this time he works with some of the greatest names in theatrical history such as Charles Chaplin, Laurence Olivier, Maria Callas and Paul Scofield.

In 1980 David accepts an exciting offer in The Middle East to design sets for The National Theatre in Doha Qatar. For 8 years he lives and works in the Qatari capital and produces numerous sets for The National Theatre. On the side he creates sets for The Doha Players, a local ex-pat theater company to whom he feels a loyalty to help out on many occasions.
After 8 years David feels his time there has come to an end and decides to move back to Amsterdam Holland where his 3 children live. And it is here that the real transformation of creating large sets into miniatures takes place. David has always made model miniatures of the sets before building the actual sizes and this skill improved over the course of his 30 year career. So he decides to focus solely on miniatures. In the beginning the antique book market was his inspiration and his models were in actual books. A large A4 or B4 size actual book cover with wooden sides so that when one opens the book, the miniature scene inside is revealed and the gazing begins.
As his miniatures are an instant success, demand is too high and he soon makes his models only for a select number of people rather than exhibiting them. His creativeness takes on new form as the miniatures grow in size. No longer able to fit in a book, they are placed in a specially made wooden box and painted a signature dark green. Again as time passes, the miniatures continue to take on a life of their own and grow and grow. They seem to gain more perfection and magic each time one is finished. As age takes its toll, David works slower but with a solid 45 years of true craftsmanship safely under his belt, his work is still improving with every miniature model he touches. He has truly captured the sole essence of every crucial element required to breathe life into his creations. Scale alone is absolutely not enough he always says. To make a great miniature one needs atmosphere and the right composition. The two essential factors David has been passionate about since he was that 13 year-old boy who decided to quit school to learn a true craft. He may not have thought he would become one the greatest and creative miniature makers in the world today nor would he ever admit it, but he most certainly had a dream to become the best at what he does. So it is not surprising to hear that one of his favorite lines is "I don't care what you do, as long as you do it well". David Sculpher, a complicated, very private man and a true human being in every sense of the word. A very modest man and true artist whose work when seen, cannot be but admired and respected all over the world
---
[Miniatures]
---